A selection of twenty-one coffees.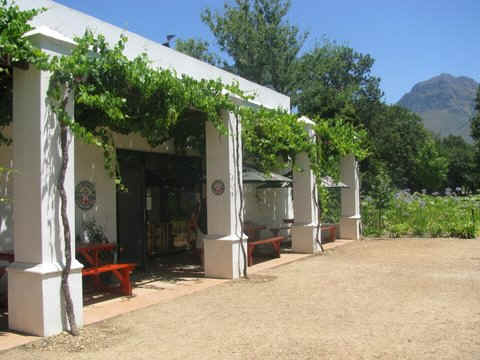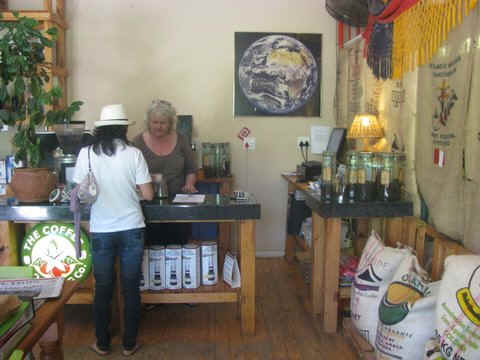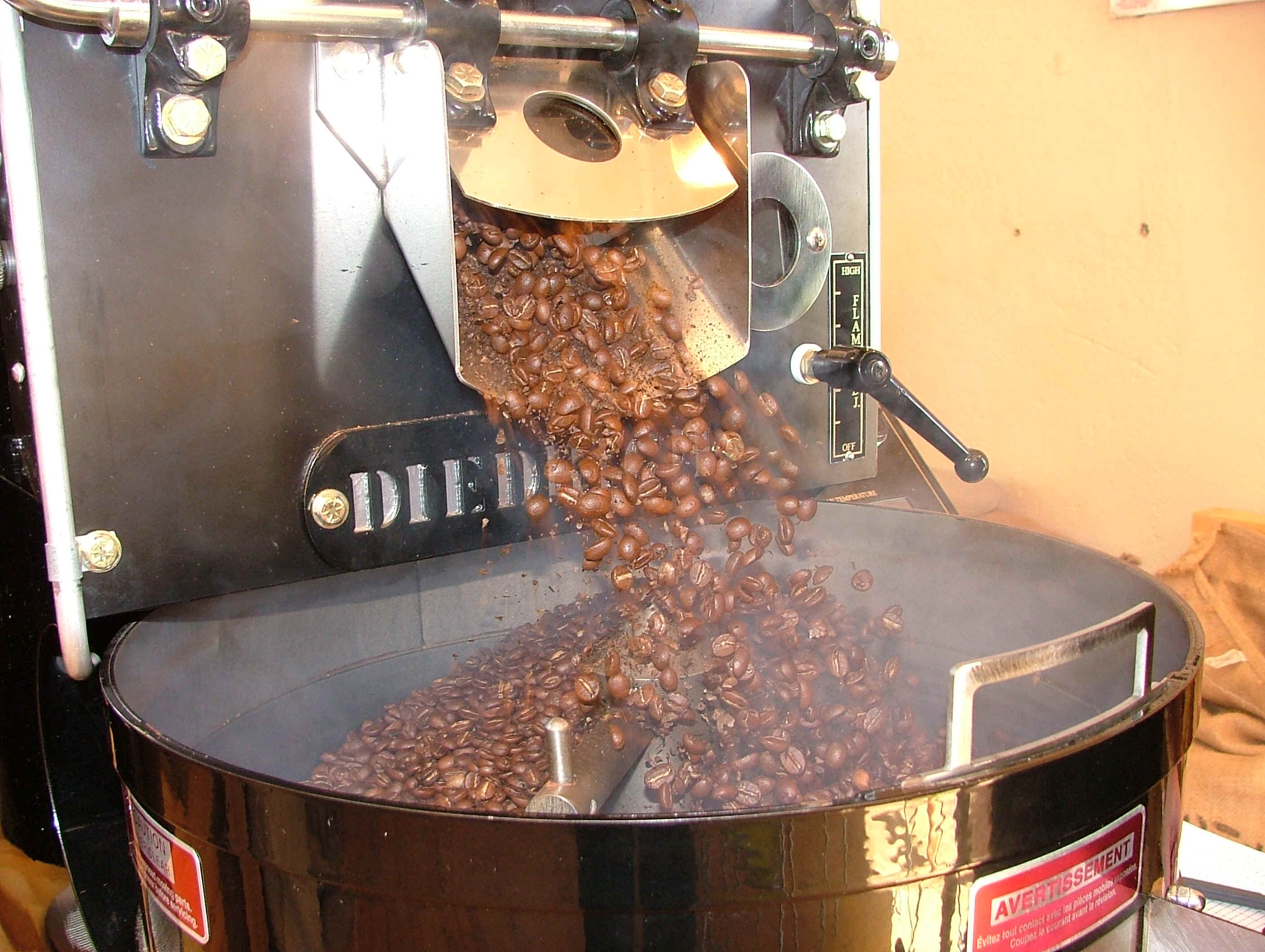 Roastery open seven days a week from nine to five. Coffee roasted-to-go.
Join us on the journey of discovery. Visit the roastery to watch coffee being roasted, receive advice from our roasters and join us for a free tasting of the coffees coming out the roaster. Our coffees are roasted by hand in small batches. Become part of an ever-growing family of coffee lovers (our philosophy). We are situated on Lourensford Estate, at the top of Lourensford Road, Somerset West (click here for map and directions) and are open every day.
Coffee delivered daily roaster-to-door
We deliver throughout South Africa. Click here for delivery options and costs. Place your order for coffee anytime by e-mail on order@coffeecompany.co.za (detailed ordering procedure). Most of our customers order their coffee on a regular weekly cycle for the best freshly roasted coffee taste.
Phone us on 021 847 0536 or 087 802 2047 during roasting hours with orders and queries.
Welcome to the new world of coffee from South Africa's single-origin pioneers.
Mild Coffees
Sidamo, Ethiopia: a medium-bodied balanced coffee for all day drinking (more info) .... R45 / 250g pouch.
Limu, Ethiopia: a balanced refined coffee from the western Ethiopian highlands with characteristic sweet winey tones (more info) .... R45 / 250g pouch.
Yirgacheffe, Ethiopia: a distinctive wet processed coffee from the famous Yirgacheffe valley in southern Ethiopia. Sought after for its lemony tart acidity and floral aroma. Runner up in the world's best coffees (more info) .... R45 / 250g pouch.
Monsooned Malabar, India: The classic hand-picked Indian coffee weathered for three months in the monsoon winds and rain (more info) ..... R48 /250g pouch.
Maragogype, Nicaragua: classic mild and fruity "elephant bean" coffee (more info) .... R52 / 250g pouch
Full-Bodied Coffees
Mandheling, Sumatra, Indonesia: a very full-bodied, rich, coffee with a mild taste (more info). Sumatra's famous coffee ..... R42 / 250g pouch.
Koutaba, Cameroon: a complex coffee with earthy tones grown by Trappist monks in Cameroon (more info) ..... R42 / 250g pouch.
Bugisu, Mt Elgon, Uganda: Earthy coffee from the volcanic slopes of Mt Elgon on the Uganda / Kenya border (more info) ..... R45 / 250g pouch.
Quebradon, Huila, Colombia: Caramel, vanilla and chocolate aromas (more info) ..... R45 / 250g pouch.
Harrar, Ethiopia: The traditional dry hand-processed coffee from the eastern Ethiopian highlands above the Gulf of Aden. The Mocha classic with wine, spice and a blueberry flavour (more info) ..... R48 /250g pouch.
Organica, Cauca, Colombia (certified organic): A classic low-yield certified organic coffee from Cauca Province, Colombia (more info) ..... R49 / 250g pouch.
High-Acidity (bright, dry, crisp) Coffees
Kiha, Tanzania: Sweet, balanced with vanilla tones (more info) ...... R40 / 250g pouch.
Antigua, Guatemala: The world-famous classic clean, bittersweet coffee grown on the slopes of the active Fuego volcano (more info) ..... R55 / 250g pouch
Los Naranjos, Colombia: The worlds' number one rated coffee from San Augustin, Huila province, Colombia (more info) ..... R60 / 250g pouch
Decaffeinated Coffee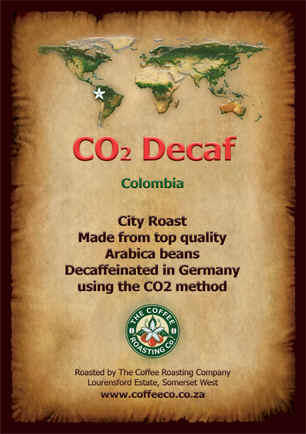 CO2 decaffeinated from Ethiopia and from Colombia ...... R55 / 250g pouch.
All our single-origin coffees can be purchased as un-roasted green coffee
Blends
Switch House Blend ......... R38 / 250g pouch
Antaria Silky Smooth Blend .......... R42 / 250g pouch
Atractiva Colombian Relationship Blend (sold out) .......... R45 / 250g pouch
Beanpeace Certified Organic Blend .......... R47 / 250g pouch
Vespresso Classic Espresso Blend .......... R48 / 250g pouch
Moonlight Sonata Low Caffeine Blend .......... R48 / 250g pouch
Cardinal Sins Award Winning Blend .......... R55 / 250g pouch
Click here for kilogram coffee prices or un-roasted green coffee prices
Ordering Procedure:
If you are new to the Coffee Roasting Co, please complete the online form giving us your details.
You can e-mail your order to order@coffeecompany.co.za (click here for more details). Or you can also phone us to place your order on 021-847-0536 or 087-802-2047 or fax it through on 086-618-3604
We will e-mail you an invoice and start roasting your coffee straight away.
Payment via Internet banking EFT deposit into our bank account: Bank: First National Bank, Somerset West (branch code: 200512) Current account: The Coffee Roasting Co., Acc No: 62076306002 Important: Please use your account number printed on your invoice (3 letters, 3 numbers) as deposit reference with your payment.
We accept cash or Visa/Mastercard to pay for coffee collected at the roastery.
We also deliver the coffee roaster-to-door and there are three options:
Delivery option 1: Our Own Delivery Routes, Cape Peninsular
Free local deliveries in Somerset West, Strand, Stellenbosch and Gordon's Bay. R15 per delivery for direct deliveries in the Cape Peninsular (details of which areas we deliver to).
Delivery option 2: Any local Post Office Counter, South Africa
Parcel post delivery to any Post Office counter in South Africa:
Up to 1kg: R30.00 / 2kg: R35.00 / 3kg: R40.00 / 4kg: R45.00 / 5kg to 25kg: R50.00
Delivery option 3: Courier Company, Main Centers
R75 for 2kg by overnight air freight courier to a physical address in a South African main center (more).
Click here for detailed delivery options and charges.
Most of our customers order coffee on a weekly cycle
Why is it best to order coffee once a week? Nothing beats the joy of a cup of freshly roasted coffee! Coffee loses about half it's taste and aroma every two weeks and should therefore be consumed within two months of roasting. All our coffees are labelled with the roasting date and not the expiry date. Coffee purchased directly from our roastery is freshly roasted on the day.
July 2011 News
Vespresso is a classic dark espresso blend of the finest Santos coffee from Brazil, the Bugisu from the slopes of Mt Elgon in Uganda and the Monsooned Malabar from India. This is our first adventure in darker roasting.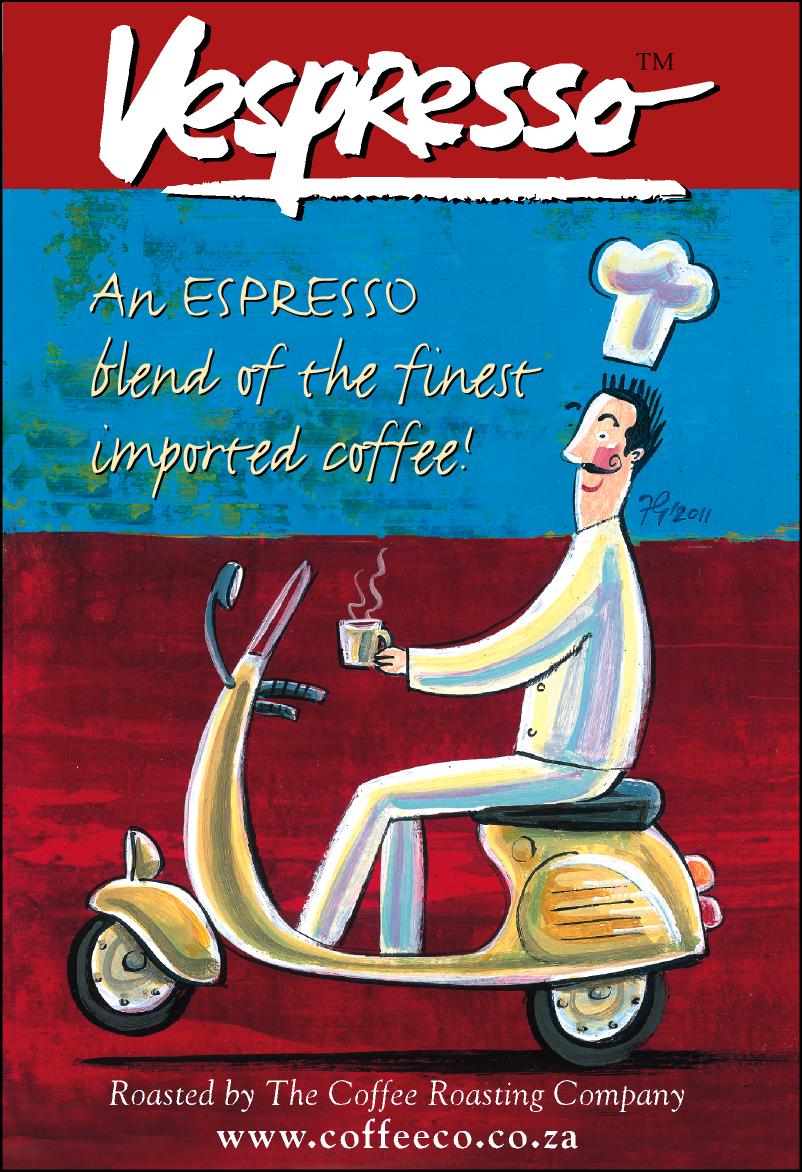 We are the official Aeropress agents for South Africa. A great way to brew coffee:
R325 (incl. VAT)
Try our delicious Red Riding Hood Treats. Wasabi nuts and almons (yoghurt and honey roasted) are popular. (range and price list). Also, we have a new range of condiments available at the roastery.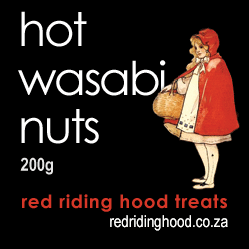 From our own game farm: 200g Boet se Biltong R45 / 200g Boet se Droe Wors R42. All natural product.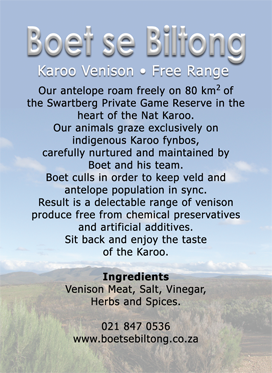 See our frequently asked questions for answers to questions like which are our biggest selling coffees and how to taste coffee.
The commercial espresso machine that we recommend and supply is the recently released La Marzocco Strada MP 2-group.
News for all our La Piramide lovers: all the of this classic Cauca coffee has been roasted and sold. The new La Piramide harvest is a few months away, expected August 2011. Watch here for the news on that shipment.
More Coffee Information
Premium coffees from the world's famous highland coffee plantations have a wonderful diversity of unique tastes, similar to great wines. However, unlike the wines, these single-origin handpicked highland-grown coffees are not widely available in South Africa. We import and roast these coffees. We don't use unspecified commodity coffee. The Coffee Roasting Co. brings unique single-origin coffees to you at their peak taste within a day of roasting; at a good price.
Roast-to-order (Roast & collect / Roast & deliver): we custom-roast the coffee only after receiving an order. Our orders in-hand determine the daily roasting schedule. Our coffee is skillfully slow-roasted by hand in small batches in our state-of-the-art Diedrich and Has Garanti infrared drum coffee roasters imported from the USA. We received our training at the Diedrich facility in Sandpoint, Idaho, USA.
We exclusively roast our coffee in clean air and only air-quench the coffee at the end of the roasting. Our coffees are available directly and fresh and our coffees are labelled with the roasting date. Coffee should always be consumed as soon as possible after roasting as it oxidizes and goes stale rapidly, even when stored well (to store coffee keep as beans, air-tight and in the deep-freeze; but it is always preferable to consume it early).
Why handpicked? The coffee bean tastes best when it's harvested just ripe (like all other fruit, in fact). This is easy to see as the coffee cherry is bright red at this stage. The coffee tree ripens unevenly with the same branch having cherries in several stages - with several sweeps over several months of a handpicking harvest only ripe coffee is selected; mechanical harvesting or strip harvesting removes everything at one time (more FAQ).
Why highland-grown? At altitudes above 1500m the tropical climate is cooler and more temperate: the bean takes up to three months longer to mature from flower to ripe fruit: this results in a denser, more tasty coffee that truly reflects the characteristics of it's terroir (more FAQ).
Beans for Espresso? All our freshly roasted speciality coffees produce good crema, aroma and taste. They can all be brewed in an espresso machine for their unique tastes. We produce an ideal full-bodied blend for espresso, the Cardinal Sins Blend. For a single origin espresso we recommend either the Limu, Koutaba or the Harrar (dry or semi-dry processed coffees produce good crema and strong taste) (more FAQ).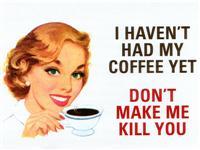 click here for more coffee humour

View Coffee Roasting Company in a larger map (or click here for more details on how to get to us)
Some other interesting areas on our coffeecompany.co.za website
Green coffee - raw beans for those who do their own home roasting.
Equipment - some selected equipment
Make that really good cup of coffee: Golden brewing hints
Coffee facts and FAQ: interesting facts and a short history
Quick how to contact us (more options):
Roastery telephones: 087 802 2047 (direct) or 021 847 0536 (telkom)
Email: info@coffeecompany.co.za / Orders: order@coffeecompany.co.za